---
Our competence has its 38th anniversary in 2022
---

A unique competence available to serve you
Thirtyeight years of work on all aspects of performance on mission critical application have given us a unique competence to guide your projects on all aspects of performance from product ideas to maintenance.
---
It all started with a benchmark at Telecoms in Singapore in 1984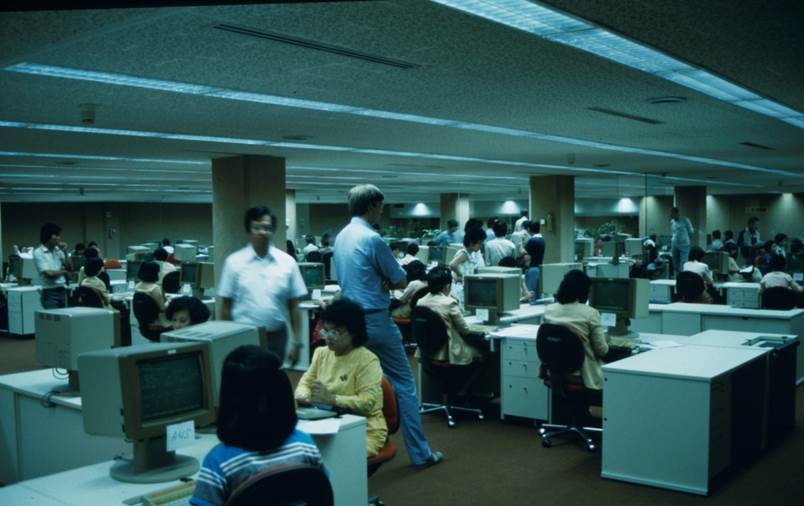 Benchmarking at Telecoms in Singapore 1984
Our competence in performance and benchmarking began at Telecoms (today Singtel) in Singapore 1984 thirty-five years ago.
The picture looks like an ordinary working day at any office, but it is deceiving. It was taken during the first benchmark tests of a new system for handling subscriber complain reporting at Telecoms in Singapore April 1984.
This was long time before Internet and performance tests of web sites, so there were no performance test tools available.
Consequently the whole benchmark had to be performed manually. Each terminal had an operator who entered subscriber complaints by typing phone numbers of fictive subscribers and scheduled a date for a visit. Behind the operator stood a performance control person who measured system response time with a stop watch! In all, over 300 people were needed to conduct the performance test.
---
Eight years later, in 1992, SoftWell was started with focus on Quality Assurance
Since 1992 we have participated in or managed a large number of Quality Assurance projects in the financial industry (trading systems and Internet banking), telecom industry (vendors & operators), manufacturing industry, Swedish defense, public healthcare and many more.
Internet and the connected world has rapidly changed almost everything in our daily living during the years we have worked on Quality Assurance of critical IT systems. The revolution has unfortunately also changed our attitude regarding system performance. Today we tend to take it for granted.
This attitude is dangerous for several reasons. Nothing can be taken for granted. Users quickly become accustomed to excellent performance and want more.
In reality, high performance is more important than ever and system performance comprises much more than speed and capacity!
---
Is our competence of interest in your project or product?
---